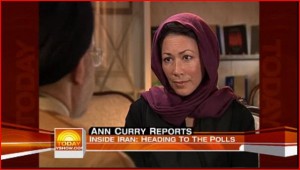 Why Ann Curry, an American journalist, is covering her head?
Not to offend the sensibilities of Iranian muslims who think women are inferior sex and should cover their heads so that the muslim men don't get horny? Is that why?
Why doesn't Ann Curry find the muslims' treatment of women offensive and refuse to talk to them?
Why do we have to be sensible to the demands of a backward culture that treats females as second class citizens?
Why don't we get offended when we see muslim women in America forced to wear head scarves, even burqas?
Guess what? I did not know this until the POTUS with muslim roots said it:
That's why the United States government has gone to court to protect the right of women and girls to wear the hijab, and to punish those who would deny it.
Unbelievable isn't it? Forget being offended and helping muslim women escape the enslavement, our government actually facilitates it.
Now, I wrote about this hijab deception before: Here and here. You see folks muslims who are living all over the western countries demand that their daughters, sisters, wives be allowed to wear hijab at school and at work. They claim that the governments or schools or employees who ban hijab are taking their freedom of religion away.
Let me ask you this: Are you aware of any muslim females going to school in Afghanistan when Taliban, a true islamist government, ruled? Even now, islamists in Afghanistan and Pakistan are attacking little girls at schools. You see folks, the inferior sex in islam is under total control of males and there is no need for females to be schooled. Heck, most islamist countries do not allow women to work anyways so what's the point in educating females? So the question is why muslims who live in western countries are so eager to provide their daughters, sisters and wives with education in infidel's schools? Really folks, think about it... Well, it is all part of the deception to get western civilization to accept their barbaric ways in the name of "religious freedom" which is a western idea that has no meaning in islam. There is no religious freedom in islam folks. You either submit to it and convert or live as an inferior class citizen or worse they maim and kill you.
We cannot demand that the muslims who choose to live in a modern western civilized society drop their backward ways and become civilized citizens or go back and live in their own islamic hell-holes but the iranian mullahs demand a female American TV personality wear a hijab and she happily submits. No wonder I call these people "phony journalists."
She is not the only one. Who can forget Speaker Pelosi in her muslim attire?
Don't you find it offensive that these are feminists and they don't see any problem with islam's treatment of women? By agreeing to the demands of mullahs that they should cover their heads, aren't they accepting islam's view and treatment of women? The feminists in this country are silent about honor killings, genital mutilations. They either don't give a damn about women who are abused and oppressed by islam or they are afraid of islam.
What about Barack Hussein Obama who is fighting to keep muslim women in America under wraps in the name of religious freedom?
The bottom-line is being afraid of islamists and keep giving into the barbarians will only get us certain enslavement and death. If we want to keep our lives and civilization, we have to fight back! The first step is to drop this stupid multiculturalism and diversity bullshit and be proud of who we are and what we have accomplished. Our culture, our western civilization is light years ahead of islamist culture of dark ages and it is supremely better than islamist ideology. We do not need to show respect to barbarians but we have to do everything we can to help innocent people who are suffering under islamist tyranny and lift them up to 21st century. It starts with courage! Ann Curry should have the courage to say to the mullahs that she will only do her interview as an American woman dressed the way a woman in a civilized western society dresses. What do you think the iranian women who have aspirations of becoming like western women thought when they see this western journalist dressed as the islamist mullahs required them?