This story is just breaking...
As far as I understand Bill Clinton visited a strip club named Cocodrilo in Buenos Aires and paid about a $1,000 for a lap dance by Andrea Rincon.
Here are the links to this story. Please add your translations:
Andrea Rincón habría desatado los bajos instintos de Bill Clinton

Bill Clinton le paga a Andrea Rincon en Dolares
UPDATE:
Evidently phony media in the United States is not interested in this story. At least they should ask Bill Clinton to clarify the meaning of "Clinton Global Initiative".
The lap dancer Andrea Rincon is Andrea Rincón who was in Argentinian version of reality TV show big brother - gran hermano 5. I had posted a picture of Colombian Andrea Rincon. Here is Andrea Rincón from Argentina: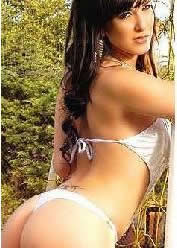 Caracas Gringo has more information about Cocodrillo club and how the whole thing went down.
I am sure it is no big deal for liberal democRATs that Clinton who got sexual favors from a young intern while in office, has expanded his enterprise globally. I remember a feminist phony journalist who hoped to give Clinton a BJ. We have young actresses who are encouraged to give lap dance to Obama. Culture of corruption and degradation brought to you by liberal democRATs.
Here is another disgusting example of liberal culture:
Actress Pia Glenn's sultry lap dance - and red panties - steal Bush-spoof show
That's liberal entertainment for you. Liberals see women as sex objects to be used by their leaders. They assume everyone else thinks the same way. These are the kind of low lives we are dealing with folks.