This page is dedicated to the first and only Kenyan-Indonesian Anti-American President of The United States who is elected to the highest office thanks to an obvious mass suicide attempt by Americans.
You can only be masochistic to watch this man do the damage he is doing. That's why the name of the page is Obamasochism.
There are other plays on his name here
Check back for the most recent additions.
Obama the BowMaster strikes again: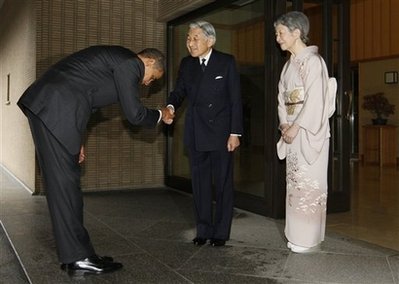 Obama wants Americans to sit down, shut up and just pay up. No dissent is allowed in Obamaland.
Obama's sickening arrogance: "I would put my 4 months up against any administration since FDR"
Obama's Air Force One turns into Scare Force One and terrorizes NYC at a cost of $328,835 to the taxpayers. Obama claims he is clueless about the whereabouts of his plane and orders a full "review" of the incident. Dude, where is my plane?
Gun Salute Scares Obama in Turkey
Obama Bows to The King of Saudi Arabia
You don't believe the POTUS bowed to the Saudi King... Watch the video here.
http://blogs.dailymail.com/donsurber/2009/03/20/60-days-64-mistakes/
Punch Drunk Obama Sends U.S. to gallows with a little humor
Obama jokes about the disabled
Obama Bumps Head on Marine One
Obama shakes the serviceman's hand as he's saluting his commander-in-chief
OBAMA MISTAKES WINDOW FOR DOOR
Obama jokes about Nancy Reagan and seances
Obama Admits Muslim Faith
Obama loses his train of thought
Obama Introduces President Joe Biden
Obama: 10,000 dead from tornado in Kansas
Obama Claims He's Visited 57 States
More Obamas
oBOWma for bowing to the Saudi King.
Obamination.
Obamania.
One
Big
Ass
Mistake
America
Obambi